**Welcome**
We are happy you're here! We're passionate about helping you feed your family well with local, grass fed and grass finished beef straight from our farm to your table.
Due to a serious illness in the family, we will temporarily not be delivering orders. Thank you for your understanding!
We're open for FREE PICK UP at the farm Monday through Saturday.
Please subscribe to our Friends & Family Newsletter to get stock and inventory updates first. 
SHOP BULK BEEF (Quarters, Halves and Whole)
Shop Grass Fed Beef Boxes
---
Testimonials
I love HCC beef! I know where it comes from and nothing tastes better than fresh and healthy. I'm a forever customer!

Gretchen, V., New Mexico
The natural flavor of this beef is amazing!

Brenda L., New Mexico
HCC beef is great! We really love it and are so happy we found you!

Jenny F., New Mexico
Grilling up some tasty meat! Thank you again for shipping it!

Meg A., Colorado
Drool worthy! Steak just the way we like it.

Monica M., New Mexico
OUR RANCH STORY
We are the Haynes family. Aaron and Addie, along with our four children, make up Haynes Cattle Company. We started raising all natural, grass fed and grass finished beef in 2013 when we realized we missed the taste of the ranch raised beef we grew up eating. After reading that 80% of the grass fed beef in grocery stores comes from other countries, we knew we had to more. This little dream of ours, to feed our family better, more nutritious, New Mexico grown beef, has blossomed into a thriving business.
Today, we are proud to be New Mexico's grass fed beef source, providing other busy families like ours with the tastiest, healthiest, local beef available. When you know where your beef comes from and trust the family who raised it, you can feel good about serving it to your family! 
We have a passion for cattle and preserving our western heritage. Aaron's roots in Valencia County New Mexico run deep as he was born and raised here. Addie grew up on a cattle ranch as a fourth generation cattle producer in Colorado. Together, we are raising our children on a farm in Los Lunas, NM where we tend to our cattle and grass pastures and hope to pass on our love for agriculture to our children.
We look forward to sharing our all natural, grass fed beef products with you! 
SHOP OUR BEEF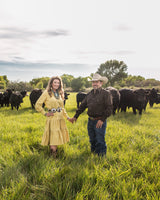 OUR PROMISE
We are proud to be an all-natural beef company that offers beef humanely raised on a 100% vegetarian diet. Our animals are never given grain. They free graze on lush, irrigated grass pasture and are supplemented in the winter with non GMO hay we grow. We don't use pesticides on our pasture or crops. We harvest animals monthly, so our inventory is constantly changing. If your preferred package is not available now, please contact us to pre order and reserve it for the next month. 
SHOP OUR BEEF
We know where our beef comes from. You should too.
100% Grass Fed Beef from our family farm in Los Lunas, NM.
Pasture raised and supplemented with free choice, non GMO hay.
No added hormones, antibiotics, or grain.
Dry aged for 14 to 21 days to tenderize and enhance the flavor.
Delivered to your door.